Swingers, Scamps and Valiants CD!
Offer ends at midnight on August 31, 2017.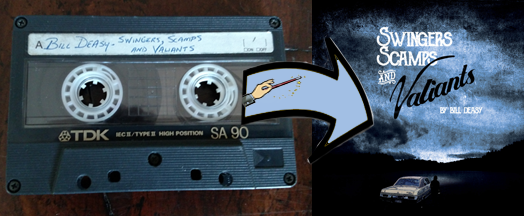 I discovered the casette buried in a box in my garage. "Swingers, Scamps & Valiant," named in honor of the 1972 Plymouth Scamp I inherited from my grandmother and which had ushered me to many misadvetures in all of its 8-cylinder glory. I had to purchase a device just to listen to it.
My best guess is that the songs (20 of them) were recorded in 1990 and though obviously the sound quality left something to be desired, I could hear the conviction I was feeling and winced less often than I thought I would. And so, without giving myself a moment to hesitate, I asked my buddy Jake to do what little he could to improve the audio and my buddy Jaimee to see if she could cook up some visuals. The result is this limited-edition 2 disc collection of hissy, warbly, incredibly earnest songs from 27 odd years ago. The release will be available for one month only (August) or until supply runs out, whichever comes first.
Hope you like it!